January 1, 2007, the due date for complete ISBN-13 implementation fast approaches – with just days left to complete the switch from 10 to 13 digit book identification numbers publishers, retailers, wholesalers, libraries, and distributors who have not yet addressed the necessary changes must scramble to keep up with the rest of the industry worldwide.
Information on how to make the switch can be found both at the
ISBN official website
and at the
Book Industry Study Group website
. Free tools, industry progress statistics, and the what's, why's, and how's can be found at both.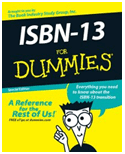 Also, available for download is a free copy of the
ISBN-13 for Dummies
PDF, produced and provided by BISG to aid the book industry in making the switch as easily as possible.